DOCTOR'S PROFILE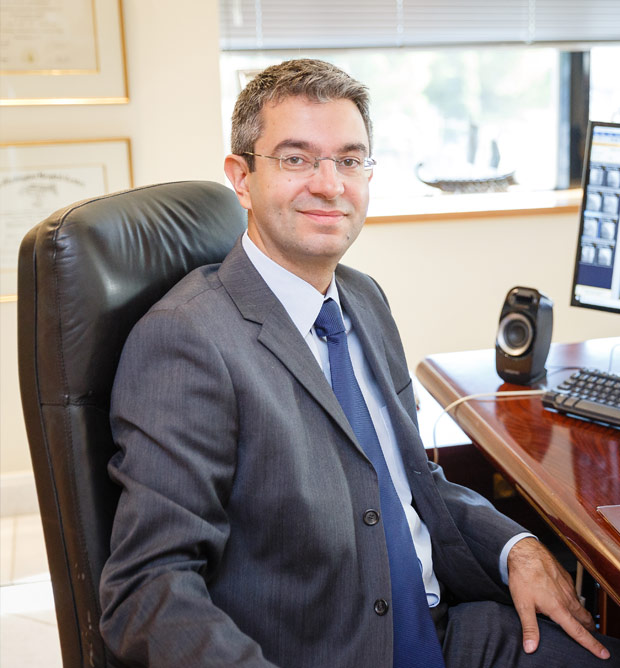 Dr. Gregory Pattakos is a cardiac surgeon who is fully trained, and board-certified, in the United States. He has additional training in minimally invasive, percutaneous and transcatheter therapies so that he can offer all possible modern options to his patients.

His training in the U.S. started at Tufts University in Boston where he received a Bachelor of Science in Biology with honors. He then earned his M.D. from Georgetown University School of Medicine in Washington, D.C.
Thereafter he stayed on at Georgetown to complete his full training in General Surgery attaining the accreditation of being American Board of Surgery – Certified.
For two years he was at the Cleveland Clinic as a clinical research fellow in cardiac surgery and some of the studies he was involved in changed the guidelines and recommendations for mitral valve surgery.
During his time in Cleveland he also obtained the degree of Master of Science in Clinical Research from Case Western Reserve University.
His training in cardiac surgery with special emphasis on minimally invasive and transcatheter therapies was at the world-renowned Texas Heart Institute and Baylor College of Medicine in Houston, Texas.
Upon completion of his training there he was certified as American Board of Thoracic Surgery – Certified.
Some milestones in his career:
Dr. Pattakos had the good fortune to learn the latest techniques besides one of the greatest cardiac surgeons of all time, Professor Joseph Coselli.  Professor Coselli holds the all-time record for largest number of thoracoabdominal aneurysm repairs with the best possible results.  
 
His unique knowledge and capabilities regarding minimally invasive surgery were acquired with Dr. Tomislav Mihaljevic (Cleveland Clinic, Ohio, USA), Dr. Joseph Lamelas (Houston, Texas, USA), Dr. Patrick Perier (Bad Neustadt, Germany) and Dr. Peyman Sardari Nia (Maastricht, The Netherlands).  
 
Performing clinical research with one of the most respected researchers in cardiac surgery – Dr. Eugene Blackstone at the Cleveland Clinic.  Dr. Blackstone and colleagues are the world-leaders in pioneering new knowledge in the field of cardiac surgery.  
 
First case in Athens of endovascular aortic aneurysm repair (TEVAR) with use of intravascular ultrasound (IVUS).
 
Appointed as Editorial Board Member of The Annals of Thoracic Surgery due to his special knowledge of, and contributions to, clinical research in cardiac surgery. The Annals of Thoracic Surgery is the leading cardiac surgery journal in the United States.